NEW Dobinsons MRR and MT Shock Absorbers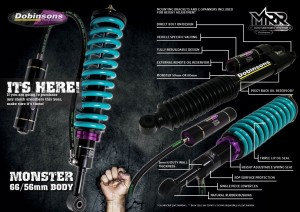 Dobinsons MRR Shocks
These are a monotube remote reservoir unit designed for the hardest of outback 4WD conditions. They feature:
Single tube body construction for best heat dissipation
3 stage oil seal system
Positive separation between oil and gas to prevent fade and improve performance
And are ideal for thenormal Utes/4WDs plus the imported American vehicles such as Ford F Series,  Chev/GMC and Dodge Ram.
DOBINSONS M/T SHOCKS:
The new monotube version have the same large internal bore (50 or 60mm) but without the remote canister option.
These are an affordable heavy duty gas shock, ideal for lifts of 2 inches or more on a wide range of 4WD vehicles.
These are ideal for 3 inch ute lifts and Patrols and Landcruisers with larger lifts (3 – 6 inch).