4WD World
Our company is owned and operated by Ed Mulligan, a 40 year industry veteran.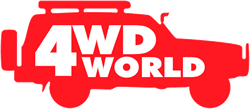 Having started Opposite Lock in 1975 Ed has been selling and fitting 4WD suspension products to customers longer than nearly every other 4WD industry person.
Over the last 40 years his business have owned and improved the ride and handling of a large number of 4WD vehicles including:
Toyota Landcruiser
Toyota Hilux
Toyota Prado
Nissan Navara
Nissan Patrol
Holden Jackaroo
Holden Rodeo
Ford Ranger
Hyundai Terracan
And others.
4WD Customers vehicles include all of the above plus nearly every other 4WD vehicle marketed in Australia in the last 40 years.
These include:
Range Rover
Land Rover
Mitsubishi Pajero
Mitsubishi Triton
Ford F Series
Ford Courier
Holden Colorado
Jeeps
etc
Eds experience includes:
Building and owning 2 monster trucks (Aussie Battler & Flying Falcon)
Off road racing 4WD Vehicles, including stadium offroad
4WDs used in Australian Safari and Outback Treks