4WD World Is A Major Australian Distributor Of The Dobinsons Range
Another 4WD World info site
Dobinsons Suspension Components
Dobinsons MRA 3-Way Adjustable Shock Absorbers
Dobinsons Spring and Suspension are proud to announce the long awaited release of the MRA Shocks (MRR 3-way adjustable shock absorbers). These shock absorbers are the culmination of a four-year design, testing and improvement programme undertaken by the Dobinsons Engineering and Design team to build a shock absorber that provides market leading performance, durability and customer tunability.
These are the top of the range Monotube gas shocks that feature:
60mm Remote canister (alloy)
10 high speed compression adjustment
20 low speed compression adjustment
15 stage rebound adjustment
Heavy duty monotube design
Available for most popular, larger 4WD models:
Landcruiser • Hilux • Patrol • Ranger
D-Max • Pajero • Prado
Dobinsons Twin Tube Gas Shock Absorbers
Designed, developed and tested in Australia by Dobinsons Spring & Suspension, in house suspension design engineers, Dobinsons 4×4 shock absorbers are designed and tested to perform in the harshest conditions right across the world.
As Dobinsons Spring and Suspension export to over 40 countries worldwide from their Australian head office, the importance of quality is at the forefront in the complete design and manufacturing process. This ensures every shock can withstand the blistering heat and corrugations of the Australian outback right through to the subzero temperatures of a Russian winter.
Dobinsons Gas Shock Absorbers have the following features:
Tough twin tube design has the benefit of holding larger volume of oil (keeping the internal workings cooler) and improved protection of internal working components
Low pressure nitrogen gas which eliminates aeration within the oil reservoir, meaning no bouncing, sloppiness nor deterioration of ride
Teflonned piston rings produce less wear and heat to the bore and increase the life of the shock absorber
Special anti-bump stops preserve the piston from extreme impacts when fitted to vehicles with coil spring suspension systems
Valve coding maximises off-road and on-road performance
Valve stacking system controls dampening laws and permits a record response time in any situation, enhancing safely and comfort
Polyurethane paint, gives extended life against the elements
Regardless of your vehicle choice, Dobinsons has a shock that can transform your ride and handling characteristics for on road vehicles and off road vehicles.
Dobinsons MRR 4WD Gas Shocks
Now available for popular 4WD models with raised suspension kits.
These are a premium product delivered for 4WD vehicles used in tough outback conditions including Cape York, Simpson Desert & Tanami Track style conditions.
They are a monotube gas design with a remote canister to increase performance under hard 4WD conditions.
Technical features include:
3mm wall thickness
Induction hardened piston rod
Vehicle specific valving
Single tube body construction for best heat dissipation
Threaded body for height adjustment
3 stage oil seal system
Positive separation between oil and gas to prevent fade and improve performance
Fully rebuildable
50 or 60mm bore depending on vehicle make/ type (see below)
Direct bolt on fitment (no modifications required)
Highest grade German oil for high temperatures and durability
More MRR Information:
The front strut units for popular utes have threaded body section for height adjustment. These are 50mm monotube gas struts with remote reservoir.
The MRRs for Landcruisers and Patrols are all 60mm bore size as they can accommodate a larger size shock absorber.
All MRRs have 3mm wall thickness on the shock body to protect the internals from stone damage in harsh outback conditions.
Popular fitments include:
Chev Silverado (available soon)
Dodge Ram
Ford F250 (2001 – 2007)
Ford F250 (2014 onwards)
Ford PX Ranger (Raised)
Holden Colorado (Raised)
Isuzu D-Max (Raised)
Mazda BT50
Mitsubishi Triton (Raised)
Nissan Navara D40 (Raised)
Nissan Patrol 2" to 6" lifted
Toyota Landcruiser 80/100 Series 2" to 4" lift
Toyota Hilux (KUN26) (Raised)
And other vehicles coming soon.
Dobinsons M/T Shock Absorbers
The M/T (MonoTubes) are cheaper and more affordable for out clients not needing a unit with remote oil canister (i.e. heavy duty applications)
Simply, the monotube version have the same large internal bore (50 or 60mm) but without the remote canister option.
These are an affordable heavy duty gas shock, ideal for lifts of 2 inches or more on a wide range of 4WD vehicles. Matched with Dobinsons Coil/Leaf Springs to give an excellent ride and super handling.
These are ideal for 3 inch ute lifts and Patrols and Landcruisers with larger lifts (3 – 6 inch). Other popular 4WD fitments include:
Ford Range PX Models (2012 onwards)
Maxda BT50 (2012 onwards)
Isuzu D-Max (2012 onwards)
Toyota Hilux (2005-2015)
Toyota Hilux (2016 onwards)
Nissan Navara  D40 STX 550
Mitsubishi Triton (MN – ML)
Mitsubishi Triton (MQ – 2015 onwards)
Dobinsons Leaf Springs
It is important to remember that a spring supports weight and sets the vehicle ride height.
It determines the optimum limits of the suspension travel and is a major contributor to the vehicle's ride and handling.
But a spring cannot operate effectively without a correctly matched shock absorber.
Dobinsons Leaf Springs Feature:
Stringent quality control procedures for Heat Treatment (Tempering) processes at all phases of the manufacturing processes ensures Dobinsons Springs are made the same exceptional way every time.
All leaf lengths are designed and calculated to achieve High Performance spring. Inappropriate leaf lengths will concentrate stress in one particular area and will cause premature sagging or breaking.
Drawn, Tapered and Diamond Cut Leaves
To assist in Load Distribution and reduce Inter Leaf Friction which occurs at the end of the leaves.
Where possible, a Military Wrapper is used as a safety mechanism to aid the vehicle's steering in the case of the main leaf breaking.
Scragging is a process where the spring is load tested to 90% of the Yield Stress of the material used. This process helps to relieve and prevent
sagging.
Inter Leaf Anti-Friction Liners
Reduce friction at the tip of the leaves where the Load is greatest in the spring.
Dobinsons Parabolic Leaf Springs
For customers wanting the ultimate raised 50mm leaf springs for:
Ford PX Ranger – 2012 onwards
Mazda BT50 4WD – 2012 onwards
Toyota Hilux KUN26 2005-2015
Landcruiser 78/79 Series
These are rated for light loads (approx 100KG) and give a comfortable ride, excellent articulation and superior handling on or off road.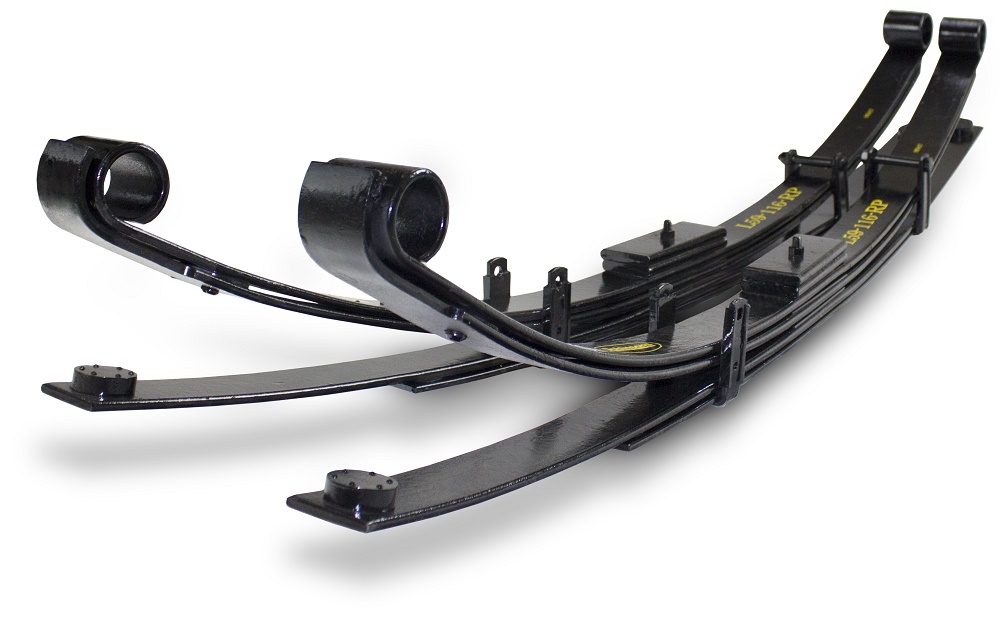 Dobinsons Coil Springs
Original Equipped Coil Springs are prone to sagging (especially the rear) and therefore cannot satisfactorily carry increased loads.
Dobinsons manufacture after market Coil Springs to restore the ride height with our improved Design Coils. In most cases, the coil is 20% – 40% stronger than the original OEM Spring.
This gives better Load Carrying capacity for Heavy Loads and enhances Road Handling while also improving towing capacities.
Dobinsons Coil Springs Feature:
Design Technology
Dobinsons computers have a design that allows the spring to maximise what is expected of the spring:
Better Load Carrying
Better Handling
Height Requirements
Greater Towing capacity
Powder Coat Finish
The powder coat finish is baked on to give a lasting protective coat to help eliminate rust.
Formed on Precision Mandrels
Each coil is precisely placed by a programmable logic computer to achieve perfect pitch. This is very important in Variable and Progressive Rate Springs.
Fully Scragged and Load Tested
All coils are scragged 100% to eliminate subsequent spring sag and load tested to ensure that they meet and maintain the required specifications.
Precise End Configurations
Engineered Coil Ends are designed to fit the vehicle correctly.
Shot Peened
Coils are shot peened to give longer life.
State of the Art Heat Treatment
Heat Treatment is unseen and is the most important process in the coil spring manufacturing process. Hardening and tempering is completed by a very accurate electronically controlled furnace to eliminate breakage.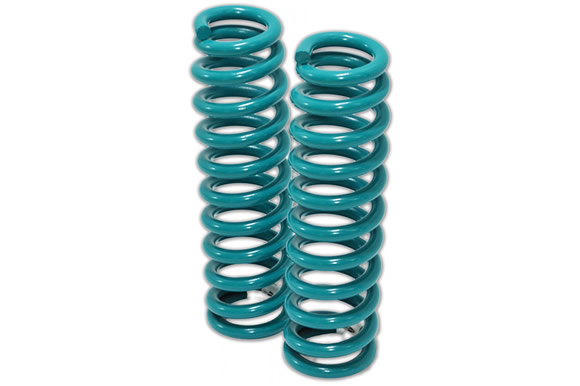 Other Dobinsons Coil Spring Information:
Dobinsons also have in some cases a Progressive Rate Design Spring to suit some particular vehicle needs.
The Progressive Rate Spring Design provides both an excellent ride unladen and a much-needed increase in load carrying capacity when required.
This is achieved by making the Pitch Distance between the Coils closer together at one end leaving less active coils working in the spring. This increases the rate tremendously, giving better load carrying capacity.
Regardless of your vehicle choice, Dobinsons has a coil that can transform your ride and handling characteristics for on road vehicles and off road vehicles.
Dobinsons have a large range of Coil Springs available and are continuously adding as each new model is released.
Freecall 4WD World on 1800 807 176 or get your quote below
Your 4WD Suspension Specialists…