4WD World Is A Major Australian Distributor Of The Dobinsons Range
Another 4WD World info site
Barwork & 4WD Accessories
Dobinsons Bull Bars feature:
Airbag & Winch Compatible Brackets
Dual Aerial Mounts
Dual Hi-Lift Jacking Points
Driving Light Mounts, Park & Indicator Lights
Polyurethane Bumper Protectors
All Dobinsons bull bars are equipped with centre and side protection plates for the underside of the bull bar. This is a crucial feature to help protect the radiator and other vital engine components when off-road driving.
The 'Classic Black' Bull Bar features:
High Quality Steel Components
Unique Mounting System: Winch mounts separate to Bar. Spreads Impact & Winching Loads Evenly over Chassis
Split Upper & Lower Design to Allow Maximum Airflow to the Radiator
The 'Classic Black Deluxe' Bull Bar features:
Same as above Classic Black, but includes 100mm fog lights in the channel section.
The 'Stainless Loop Deluxe' Bull Bar features:
Stainless Steel Grade 304 / Triple Loop
125mm Fog Lights
HB4 OEM High Quality Standard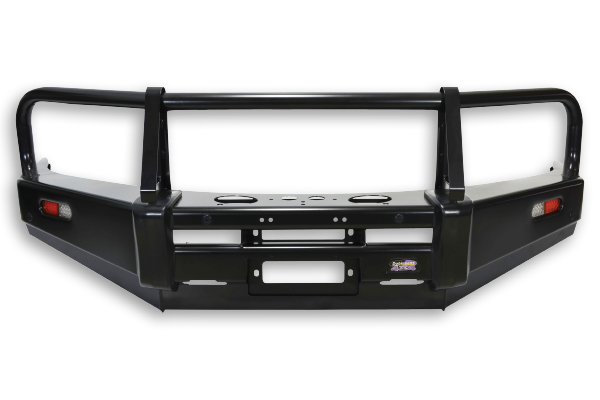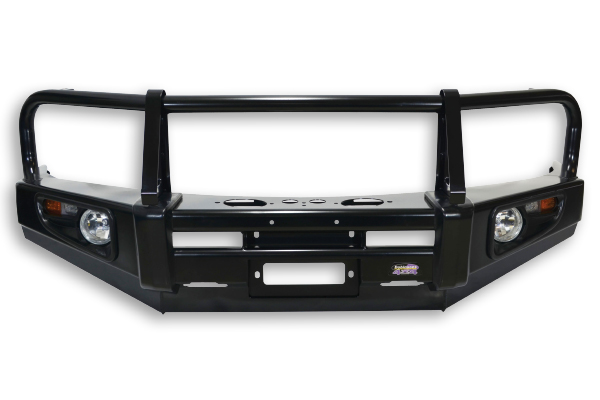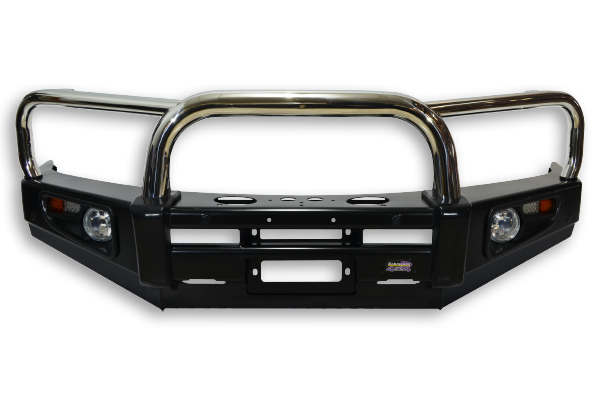 Dobinsons Steps & Side Rails:
These are a quality stainless steel product available for popular 4WD utes (plus 2WD utes) such as:
Ford Ranger
Mazda BT50
Toyota Hilux
Mitsubishi Triton
Nissan Navara (D40 and D22 models)
They are available as:
Side step only or
Side rail and step
Details:
Durable Powder Coat Finish
ADR & Airbag Compatible
Non-Slip Checker Plate Tread Steps
2mm Thick, 50mm Heavy Duty Steel Tube Construction
Twin Inner and Outer Tube Design for Maximum Sill Protection
Frontal Swivel Section for Airbag Compliance with Airbag Compliant Bullbars
Can also be Fitted to Most other Brands of Bullbars (Outer Bullbar Loop Upright must be Close to Vertical)
Dobinsons Snorkels:
Whether you are crossing the desert or a river, your engine should be protected from excess water intake and free of dust.
A Dobinsons snorkel will ensure your engine is kept dry and the air intake is cleaner.
All Dobinsons Snorkel Kits come with template, fitting instructions and all mounting hardware for your 4×4 vehicle.
They feature:
Rotationally moulded using precision CNC shaped aluminium dies
Increases air intake height to allow safer water crossings and reduce dust intake
Increased air intake height rams cooler, cleaner air into the engine increasing engine performance
Manufactured from high quality UV resistant LLDPE
Snorkel Kits include template and all mounting hardware
Available for:
Ford Ranger
Isuzu D-Max
Holden Rodeo
Mitsubishi Triton
Mitsubishi Delica
GQ/Y60 Nissan Patrol
GU/Y61 Nissan Patrol
D40 Nissan Navara
75 Series Toyota Landcruiser
78 Series Toyota Landcruiser
80 Series Toyota Landcruiser
100 Series Toyota Landcruiser
105 Series Toyota Landcruiser
200 Series Toyota Landcruiser
90 Series Toyota Prado
120 Series Toyota Prado
150 Series Toyota Prado
Toyota Hilux/Vigo
Other Dobinsons Accessories:
Whether it be touring, hardcore off road, industrial, trade or everyday passenger vehicles Dobinsons have the quality products to make your vehicle look great and perform even better.
Other Dobinsons products include:
Snorkels
Air Compressors
Camping/Touring Equipment
Fridges / Freezers
Lifting Jacks
Recovery Gear
Dual Battery Kits & Driving Lights
First Aid Kits
Tyre Repair Kits
Winches
Bull Bars
Roof Racks
Freecall 4WD World on 1800 807 176 or get your quote below
Your 4WD Suspension Specialists…