Another 4WD World info site
Another 4WD World info site
Dobinsons Shock Absorbers
Dobinsons Gas Shocks
Dobinsons Gas Shock Absorbers have the following features:
Tough twin tube design has the benefit of holding larger volume of oil (keeping the internal workings cooler) and improved protection of internal working components
Low pressure nitrogen gas which eliminates aeration within the oil reservoir, meaning no bouncing, sloppiness nor deterioration of ride
Teflonned piston rings produce less wear and heat to the bore and increase the life of the shock absorber
Special anti-bump stops preserve the piston from extreme impacts when fitted to vehicles with coil spring suspension systems
Valve coding maximises off-road and on-road performance
Valve stacking system controls dampening laws and permits a record response time in any situation, enhancing safely and comfort
Polyurethane paint, gives extended life against the elements
Regardless of your vehicle choice, Dobinsons has a shock that can transform your ride and handling characteristics for on road vehicles and off road vehicles.
Send us an email or free call 4WD World on 1800 807 176 to discuss your Dobinsons needs.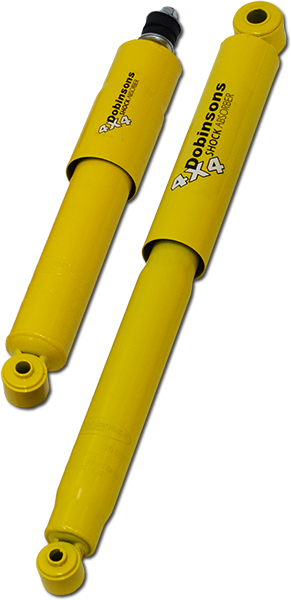 Dobinsons MRR 4WD Gas Shocks
Now available for popular 4WD models with raised suspension kits.
These are a premium product delivered for 4WD vehicles used in tough outback conditions including Cape York, Simpson Desert & Tanami Track style conditions.
They are a monotube gas design with a remote canister to increase performance under hard 4WD conditions.
Technical features include:
3mm wall thickness
Induction hardened piston rod
Vehicle specific valving
Single tube body construction for best heat dissipation
Threaded body for height adjustment
3 stage oil seal system
Positive separation between oil and gas to prevent fade and improve performance
Fully rebuildable
50 or 60mm bore depending on vehicle make/ type (see below)
Direct bolt on fitment (no modifications required)
Highest grade German oil for high temperatures and durability
Popular fitments include:
Chev Silverado (available soon)
Dodge Ram
Ford F250 (2001 – 2007)
Ford F250 (2014 onwards)
Ford PX Ranger (Raised)
Holden Colorado (Raised)
Isuzu D-Max (Raised)
Mazda BT50
Mitsubishi Triton (Raised)
Nissan Navara D40 (Raised)
Nissan Patrol 2" to 6" lifted
Toyota Landcruiser 80/100 Series 2" to 4" lift
Toyota Hilux (KUN26) (Raised)
And other vehicles coming soon.
More MRR Information:
The front strut units for popular utes have threaded body section for height adjustment. These are 50mm monotube gas struts with remote reservoir.
The MRRs for Landcruisers and Patrols are all 60mm bore size as they can accommodate a larger size shock absorber.
All MRRs have 3mm wall thickness on the shock body to protect the internals from stone damage in harsh outback conditions.

Freecall 4WD World on 1800 807 176 or get your quote below
Your 4WD Suspension Specialists…